Teri,
I had such a wonderful time at the conference thanks to your stellar planning and beautiful spirit. You put on a great event and I am going to make it the one writing conference that I promote throughout the year. I can honestly say that it is the best that I have been to so far (better than some heavy hitters) for attendees as well as presenters. Thank you again for having me.
Best,
Natalie Obando-Desai
---
Teri Bayus was recently engaged by the Community Foundation of Estero Bay to provide its Board with a social media for non-profits seminar. The seminar was professional, instructive, useful, and engaging. The Board is grateful to Teri for informing it about the nature of various current social media platforms, and their potential application for the benefit of a non-profit. Thank you Teri!
---
Teri -
If you are tired of hearing this, forgive me. But you have once again done very well for yourself and writers. It was a wonderful conference. And in no small part it was due to you and your coterie of volunteers who, I might add, adore you. Add me to your long list of fans. You did spanked as many home runs for your participants as you did your staff and faculty. If you can't hear the applause coming from my Tarzana office I'm not clapping hard enough.
Thanks again, oh Mistress of the Writer Realm,
Doug Richardson
---
A high flyin' gal name of Teri,
liked to drink wine and be merry.
She liked a good red,
it went to her head.
She wasn't so keen on a sherry.
By Janice Konstantinidis




Teri Bayus is a writer of words and builder of worlds. Her current goal is to be a working TV writer, as she has completed four TV pilots and is working on three more.

She has self-published two novels, under the genre of culinary erotica, and optioned two screenplays. She has a nonfiction book, Why Not Me? about how the universe conspires to make everyone's dreams a reality. Her current novel, The Greatest Of Ease, is about her time as a trapeze artist in a traveling circus.

She hosted (before the plaque) and produced the TV show, Taste Buds (www.tastebuds.tv), that highlights the chef's talents and restaurants worldwide. Taste Buds is in its third season, with shows being filmed in Cuba, Italy, and Paris.

As the Central Coast Writers Conference director, she is fulfilling love for teaching and facilitating everyone to find their authentic voice and tell their own story. She also teaches writing, social media, and nonprofit fundraising at Cuesta and Hancock Colleges.

Her love for inspiring others has brought her to the path of a professional speaker. She has been creatively crushing corporate marketing for over 30 years. She adores sharing her journeys with others by facilitating over 2000 workshops, classes, and marketing seminars.


Watch Taste Buds Here:
I am doing a TV version of my dinner reviews for Central Coast Now TV (Charter Channel 10 & Comcast Channel 27) so look for my show "Taste Buds". Click on either logo to see the shows! I am having a ball producing it, here is the promo:
Check out all the shows and events for Taste Buds
www.tastebuds.tv
---
The 36th Annual Writers Conference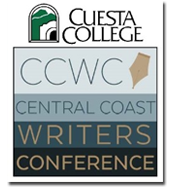 San Luis Obispo, Calif. --- Save the date! Adapting to social distancing guidelines set in place due to Covid-19, organizers of the Central Coast Writers Conference, brought to you by Cuesta College Community Programs, announced the 2020 event will take place online Sept. 24-26, 2020.

"We are adapting to the many changes 2020 has brought our way and nothing will stop our conference!" said CCWC Executive Director Teri Bayus. "We have an award-winning staff dedicated to helping writers at all levels achieve their goals. Although it's true our 36th annual event may look a bit different than years past, people from all over the world may join in as our classes, workshops, and keynote presentations will be offered completely online."

In 2019, CCWC was named the "Best Conference in the West" by The Writer magazine. Attendees at this year's event, to be held via Zoom, may register for Master Classes on Thursday and make selections from 60+ workshops on Friday and Saturday.

"As always, our conference is ideal for writers of all ages and experience levels," said Bayus. "Our presenters are fabulous, experienced, and the best in their industry when it comes to teaching screenwriting, novel writing, beginning writing, poetry, business, and more."

The 2020 keynote speakers are Christopher Moore, Jordan Rosenfeld, and Monica Piper. Scholarships are available for Teachers and include opportunities to attend the Teen Program, and Finding Your Voice Program, sponsored by Chevron and Cuesta College.

"Class attendees will also be given the opportunity to submit stories for possible publication in our 2021 book, Connections," said Bayus. "There is so much to be excited about this year, and we truly have something to offer to all writers, whether they are experienced or just starting on their writing journey. Our goal is to help every writer that attends our conference take their writing to the next level. So, sign up today and join us for CCWC 2020!"

The $225 registration fee includes a recorded copy of every class for all attendees. Find more information and registration forms at www.CentralCoastWritersConference.com. Contact Cuesta Community Programs at 805-546-3100 ext. 2284. Follow on social media for the latest updates: Instagram and Twitter @CCWritersCon and Facebook @CentralCoastWritersConference.

Please follow us on Twitter: CCWritersCon, Instagram: CCWritersCon and on Facebook: Central Coast Writers Conference for up to the minute details about our staff and authors.

Or email our fearless leaders at centralcoastwritersconference@gmail.com.




Join Us Today!
www.centralcoastwritersconference.com