Teri,
I had such a wonderful time at the conference thanks to your stellar planning and beautiful spirit. You put on a great event and I am going to make it the one writing conference that I promote throughout the year. I can honestly say that it is the best that I have been to so far (better than some heavy hitters) for attendees as well as presenters. Thank you again for having me.
Best,
Natalie Obando-Desai
---
Teri Bayus was recently engaged by the Community Foundation of Estero Bay to provide its Board with a social media for non-profits seminar. The seminar was professional, instructive, useful, and engaging. The Board is grateful to Teri for informing it about the nature of various current social media platforms, and their potential application for the benefit of a non-profit. Thank you Teri!
---
Teri -
If you are tired of hearing this, forgive me. But you have once again done very well for yourself and writers. It was a wonderful conference. And in no small part it was due to you and your coterie of volunteers who, I might add, adore you. Add me to your long list of fans. You did spanked as many home runs for your participants as you did your staff and faculty. If you can't hear the applause coming from my Tarzana office I'm not clapping hard enough.
Thanks again, oh Mistress of the Writer Realm,
Doug Richardson
---
I am a creator. Written word, video capture, social gatherings, marketing, and librettos to groups. I travel, write, produce, and amaze. Share in my adventure.

I also teach social networking classes for writers, businesses, and non-profits. I love to share my passions and experience with public speaking engagements.


Teri is on TV!
I am doing a TV version of my dinner reviews for Central Coast Now TV (Charter Channel 10 & Comcast Channel 27) so look for my show "Taste Buds". Click on either logo to see the shows! I am having a ball producing it, here is the promo:
Check out all the shows and events for Taste Buds
www.tastebuds.tv
---
Central Coast Writer's Conference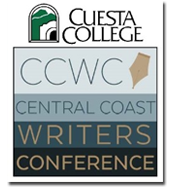 Are you ready to take your writing to the next level? Whether you are a new writer or an established author, the Central Coast Writers Conference will elevate your writing and scribing passion to the next level.

Cited as one of the best writers conferences in the US, this destination conference offers workshops in all genres presented by an inspiring faculty.

We are working on an exciting program for you this year with many new opportunities and staff. The dates are September 28-30, 2017 with famous keynotes, workshops, panels, private critic sessions, foodie and wine events and many other activities.

Registration is open now, you can save your spot and make sure you do not miss out!

Let us inspire you and make your writing lives extraordinary.

The 2017 Schedule and Staff have been Released! Click below to download the .pdf files:

Friday, September 29, 2017 | Saturday, September 30, 2017


Join Us Today!
www.centralcoastwritersconference.com
---
Taste Bud's
Best Hidden Treasure Chef Competition
Sunday, August 27th
1-3 PM at the Inspired Home & Gourmet Expo of Paso Robles at the Paso Robles Event Center