Special Events





FidgetCon


November 17, 2019
Morro Bay


FidgetCon is a free family fun event celebrating all things fidgety to celebrate kids on the spectrum. FidgetCon offers over 10 activities during the event that supports and promotes Fidget play. FidgetCon was conceived for parents and children who want to see the different fidget spinners, toys and to compete in fidget games. This free to the public event is a diverse and wonderful afternoon of exploration and talent.

FidgetCon was created in 2017 by an 8-year-old boy who had difficulty "fitting in" and with his grandmothers help, they created a day celebrating all things fidgety. The children and adults that come to the event, revel in a different mind space than other children, so this their opportunity to play.

Children who are "Fidgety" are not given a celebration or day of fun that focuses on their needs. This event is a place where they can see many different kinds of fidget toys and participate in activities they do not get to try anywhere else.

All activities are free to all participants and fidget prizes are awarded for participation. All parents and children come together to participate in a fun day of celebrating the different ways that Fidgets help to calm and inspire children to succeed. FidgetCon will continue to add current "fidgety" toys and activities. We award participants with raffle tickets that are for a free grand prize, so there is no cost for the children to win. The first year, we gave away a drone, last year it was a bicycle.


---



Soupabration


November 2, 2019 at Avila Beach Resort.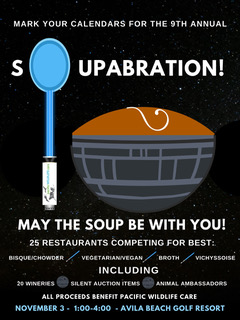 Soupabration is the annual fundraiser for Pacific Wildlife Care the area's only licensed rehabilitation center that cares for injured birds, mammals, and reptiles. PWC is a nonprofit 501(c)(3) organization that is comprised of over 1,100 caring individuals.

The Soupabration event is November 3, 2019 from 12:00pm - 4:00pm at Avila Beach Golf Resort. Soupabration is a lifestyle food and wine event where the areas best restaurants and chefs compete to see who can make the best soup. This is a biggest fundraiser and we are expanding the venue, chefs and vendors to help fund more animal rescue and programs for Pacific Wildlife Care.

All tickets include the following happenings at the event:
Soup Tasting
Wine Tasting (over 21 years old)
25 chefs competing for "Best Soups"
Celebrity Chefs & Judges (blind tasting)
Over 20 Wineries, Ciders, Distilleries & local beer
Wildlife Ambassadors
Selfie Wall with Animals and Star Wars Characters
Junior Chef Mentor Contest
Silent Auction, Unique Artist Soup Bowls & more
Tickets are:

$90 for VIP tickets that include early entry (12:00pm), free parking, first crack at Buy It Now silent auction, VIP seating, unlimited wine tasting, and no-line soup tasting and priority pictures with Star Wars characters.

$65 Wine and Soup Tasting - Unlimited Wine and Soup Tasting - $5.00 parking

$50 Soup Tasting only - $5.00 parking

https://www.eventbrite.com/e/soupabration-tickets-67352048791


---



Siafu Writers Retreat


February 6 - 10, 2020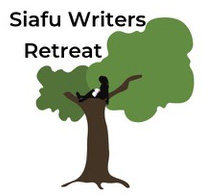 Whether you're a new writer looking to jump start a career, an established writer looking to finish or polish a project, or if you're serious about breathing new life into your writing, Siafu Retreat is the answer you've waited for. Beginning this February, we will compile five days dedicated towards focusing, growing, and pushing yourself forward as a writer.

Smack dab in the middle of California's coastline, this is the idyllic location for immersing yourself in your craft. Writers of all levels will recharge the senses, restore inspiration, and generate new material in one of the world's hidden treasures.

Tickets include all lodging, food, instruction, activities and inspiration. Tickets available at https://www.eventbrite.com/e/siafu-writers-retreat-tickets-70576850259

Email questions to livewell@teribayus.com


---



Taste Buds Best Chef Competition



February 29, 2020 as part of the Inspired Homes Expo. The competition pits 6 of the best chefs into a "chopped" style competition that includes a live on stage cooking demonstration, samples to everyone of the chefs best dishes, Tastebuds episode and layout in Living Lavish Magazine. Prior to the competition, 6 chefs will each be given a Talley Box of vegetables and some meat from Larder Meat Company to choose four items to create a dish for competition. At the Expo, they will create and give out samples or bites to be judged on taste, originality, and presentation from the people and the celebrity judges.


---
Live Out Loud TV
As you know Teri Bayus has been fulfilling a lifelong dream with her TV show. After the wild success of Taste Buds, which is in its third season, we have decided to create a TV station with a community feel.

You can sponsor an existing program or create one of you own for only $500 per month.

Some of our programing includes:
Taste Buds
Central Coast Hottest Homes
Kids Story Time
Non-Profit Hour
Dining for Charities
Chamber of Commerce features
Community Weekly Good News Show
Marketplace
Dad Jokes
Home Improvement
The Return of Jack - Exercise Show
Wine Wizards
CBD
Air BnB
Senior Projects
Drunk Cooking
Silver Treasure
Social Justice Hour
...and more!
Contact Teri Bayus at Livewell@teribayus.com for a rate sheet and opportunities.


---
Morro Bay Winterfest
The City of Morro Bay will celebrate the holiday season with new creative events, local businesses and non-profits providing the fun and foundation for the Morro Bay Winterfest. "For the first time Morro Bay will have a permanent Santa House and 12 days of Santa provided by Morro Bay Rotary Club," stated Teri Bayus, event coordinator for Morro Bay Winterfest. "Santa will be in his house on the Chessboard (Front and Embarcadero street) every evening from 6:00 until 8:00 PM with goodies and picture opportunities. All Winterfest events are free to the public and we encourage guests to stay in Morro Bay to kick off their holiday spirit."

www.morrobaywinterfest.com


---



First Responders Crawl



Morro Bay introduces the first-ever First Responders Pub Crawl!

On Friday, October 26, 2018, from 6:00 pm to 9:00 pm we will be having an adult scavenger hunt with Wine, Beer, and Food. Retail, restaurant and services businesses will have a winemaker or brew master placed inside their business to give a sip of their exceptional product while our guests attempt to visit every business. The goal is two-fold, first to get guests to find new businesses in Morro Bay and introduce a new set of customers to the wineries and breweries.

This grown-up Halloween fun is a scavenger hunt! We are asking everyone participating to dress like their favorite First Responder. We will have a Passport given to each Crawler so they will visit each of the participating businesses on it. A filled out Passport will be entered to win prizes with a grand prize of a dinner with the Morro Bay Fire Department!

https://www.eventbrite.com/e/the-first-responders-pub-wine-crawl-tickets-46908249838


---
Santa Crawl



Morro Bay Winterfest Santa Crawl!

On Friday, December 7, 2018, from 6:00 pm to 9:00 pm we will be having an adult scavenger hunt with beer and wine. Retail and services businesses will have a winemaker or brewmaster placed inside their business to give a sip of their exceptional product. The goal is two-fold- to get our guests to find new businesses and introduce a new set of customers in a fun setting.

This grown-up holiday fun is a scavenger hunt! We will have a Yule Tide Passport given to each of the participating businesses on it that will be given out at the start. A completely filled out Yule Tide Passport will be entered to win a prize of $1000 of a full weekend of wining and dining!

www.morrobaywinterfest.com


---
Leprechaun Crawl
The Leprechaun Crawl March 15, 6:00 to 10:00 PM. Morro bay will be crawling with Leprechauns!

Come join in the fun where pubs, bars and restaurants will be sampling out IPAs and small batch whiskeys alongside local nibbles.

Cost to participate in the Leprechaun Crawl is $20 per person and includes all of your tastings. The only requirement is that you dress in your version of an Irish leprechaun.

A fully filled out Passport could win $1000 in prizes!

Designated Drivers can play for free!

Proceeds benefit the Friends of Morro Bay Harbor.

https://friendsofthembhd.org/about-us/


---
Facebook: Siafu Social networking. Twitter: teribayus. You Tube: Teribayus.
Yelp: terib. LinkedIn: TeriBayus. Blog: theyearoftheteri.blogspot.com