Central Coast Writers Conference
2015-2020
Executive Director
The Central Coast Writers Conference is an essential annual destination for writers, teachers, students, editors, and publishers. Each year writers join our community for three days of insightful dialogue, networking, and unrivaled access to our staff. It was named Best Conference in California by Writer's Magazine under Teri's leadership.
We added Master Classes that are a six-hour workshop focusing on one subject that will include the student writing. Classes were limited to 20 students, and the goal was for the group to become a core support system with one master to encourage and elevate their writing.
The conference features over 40 presenters offering over 65 classes in screenwriting, beginning writing, poetry, memoir, novels, nonfiction, children's, young adult, critiques, keynotes, and many unique craft lectures. We have literary agents, editors, and publishers teaching and at the students disposal. 
FidgetCon
November 17, 2019
Morro Bay


FidgetCon is a free family fun event celebrating all things fidgety to celebrate kids on the spectrum. FidgetCon offers over 10 activities during the event that supports and promotes Fidget play. FidgetCon was conceived for parents and children who want to see the different fidget spinners, toys and to compete in fidget games. This free to the public event is a diverse and wonderful afternoon of exploration and talent.

FidgetCon was created in 2017 by an 8-year-old boy who had difficulty "fitting in" and with his grandmothers help, they created a day celebrating all things fidgety. The children and adults that come to the event, revel in a different mind space than other children, so this their opportunity to play.

Children who are "Fidgety" are not given a celebration or day of fun that focuses on their needs. This event is a place where they can see many different kinds of fidget toys and participate in activities they do not get to try anywhere else.

All activities are free to all participants and fidget prizes are awarded for participation. All parents and children come together to participate in a fun day of celebrating the different ways that Fidgets help to calm and inspire children to succeed. FidgetCon will continue to add current "fidgety" toys and activities. We award participants with raffle tickets that are for a free grand prize, so there is no cost for the children to win. The first year, we gave away a drone, last year it was a bicycle.
Soupabration
November 2, 2019 at Avila Beach Resort.


Soupabration is the annual fundraiser for Pacific Wildlife Care the area's only licensed rehabilitation center that cares for injured birds, mammals, and reptiles. PWC is a nonprofit 501(c)(3) organization that is comprised of over 1,100 caring individuals.

The Soupabration event is November 3, 2019 from 12:00pm – 4:00pm at Avila Beach Golf Resort. Soupabration is a lifestyle food and wine event where the areas best restaurants and chefs compete to see who can make the best soup. This is a biggest fundraiser and we are expanding the venue, chefs and vendors to help fund more animal rescue and programs for Pacific Wildlife Care.

All tickets include the following happenings at the event:
Soup Tasting
Wine Tasting (over 21 years old)
25 chefs competing for "Best Soups"
Celebrity Chefs & Judges (blind tasting)
Over 20 Wineries, Ciders, Distilleries & local beer
Wildlife Ambassadors
Selfie Wall with Animals and Star Wars Characters
Junior Chef Mentor Contest
Silent Auction, Unique Artist Soup Bowls & more
Tickets are:

$90 for VIP tickets that include early entry (12:00pm), free parking, first crack at Buy It Now silent auction, VIP seating, unlimited wine tasting, and no-line soup tasting and priority pictures with Star Wars characters.

$65 Wine and Soup Tasting – Unlimited Wine and Soup Tasting – $5.00 parking

$50 Soup Tasting only – $5.00 parking
Siafu Writers Retreat
February 6 – 10, 2020


Whether you're a new writer looking to jump start a career, an established writer looking to finish or polish a project, or if you're serious about breathing new life into your writing, Siafu Retreat is the answer you've waited for. Beginning this February, we will compile five days dedicated towards focusing, growing, and pushing yourself forward as a writer.

Smack dab in the middle of California's coastline, this is the idyllic location for immersing yourself in your craft. Writers of all levels will recharge the senses, restore inspiration, and generate new material in one of the world's hidden treasures.

Tickets include all lodging, food, instruction, activities and inspiration. 

Email questions to livewell@teribayus.com
Taste Buds Best Chef Competition

February 29, 2020 as part of the Inspired Homes Expo. The competition pits 6 of the best chefs into a "chopped" style competition that includes a live on stage cooking demonstration, samples to everyone of the chefs best dishes, Tastebuds episode and layout in Living Lavish Magazine. Prior to the competition, 6 chefs will each be given a Talley Box of vegetables and some meat from Larder Meat Company to choose four items to create a dish for competition. At the Expo, they will create and give out samples or bites to be judged on taste, originality, and presentation from the people and the celebrity judges.
Live Out Loud TV



As you know Teri Bayus has been fulfilling a lifelong dream with her TV show. After the wild success of Taste Buds, which is in its third season, we have decided to create a TV station with a community feel.

You can sponsor an existing program or create one of you own for only $500 per month.

Some of our programing includes:
Taste Buds
Central Coast Hottest Homes
Kids Story Time
Non-Profit Hour
Dining for Charities
Chamber of Commerce features
Community Weekly Good News Show
Marketplace
Dad Jokes
Home Improvement
The Return of Jack – Exercise Show
Wine Wizards
CBD
Air BnB
Senior Projects
Drunk Cooking
Silver Treasure
Social Justice Hour
…and more!
Contact Teri Bayus at Livewell@teribayus.com for a rate sheet and opportunities.
Morro Bay Winterfest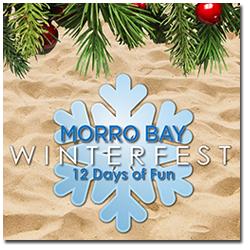 The City of Morro Bay will celebrate the holiday season with new creative events, local businesses and non-profits providing the fun and foundation for the Morro Bay Winterfest. "For the first time Morro Bay will have a permanent Santa House and 12 days of Santa provided by Morro Bay Rotary Club," stated Teri Bayus, event coordinator for Morro Bay Winterfest. "Santa will be in his house on the Chessboard (Front and Embarcadero street) every evening from 6:00 until 8:00 PM with goodies and picture opportunities. All Winterfest events are free to the public and we encourage guests to stay in Morro Bay to kick off their holiday spirit."
First Responders Crawl

Morro Bay introduces the first-ever First Responders Pub Crawl!

On Friday, October 26, 2018, from 6:00 pm to 9:00 pm we will be having an adult scavenger hunt with Wine, Beer, and Food. Retail, restaurant and services businesses will have a winemaker or brew master placed inside their business to give a sip of their exceptional product while our guests attempt to visit every business. The goal is two-fold, first to get guests to find new businesses in Morro Bay and introduce a new set of customers to the wineries and breweries.

This grown-up Halloween fun is a scavenger hunt! We are asking everyone participating to dress like their favorite First Responder. We will have a Passport given to each Crawler so they will visit each of the participating businesses on it. A filled out Passport will be entered to win prizes with a grand prize of a dinner with the Morro Bay Fire Department!
Santa Crawl

Morro Bay Winterfest Santa Crawl!

On Friday, December 7, 2018, from 6:00 pm to 9:00 pm we will be having an adult scavenger hunt with beer and wine. Retail and services businesses will have a winemaker or brewmaster placed inside their business to give a sip of their exceptional product. The goal is two-fold- to get our guests to find new businesses and introduce a new set of customers in a fun setting.

This grown-up holiday fun is a scavenger hunt! We will have a Yule Tide Passport given to each of the participating businesses on it that will be given out at the start. A completely filled out Yule Tide Passport will be entered to win a prize of $1000 of a full weekend of wining and dining!
Leprechaun Crawl


The Leprechaun Crawl March 15, 6:00 to 10:00 PM. Morro bay will be crawling with Leprechauns!

Come join in the fun where pubs, bars and restaurants will be sampling out IPAs and small batch whiskeys alongside local nibbles.

Cost to participate in the Leprechaun Crawl is $20 per person and includes all of your tastings. The only requirement is that you dress in your version of an Irish leprechaun.

A fully filled out Passport could win $1000 in prizes!

Designated Drivers can play for free!

Proceeds benefit the Friends of Morro Bay Harbor.
Special Events Coordination Resume


I engage as an independent contractor to perform those administrative, management and communications services as specified with an agreed upon contract. The services are generally described as: provide all necessary management, administrative, communication, marketing and coordination services for the event, including, but not limited to, management, implementation, and coordination. I perform these services with the highest professional standards and ethics of qualified and experienced personnel in the industry.

Key Duties/Responsibilities
Adhering to the budget set forth and approved by Client.
Provide a detailed business plan and budget for entire event.
Supporting and collaborating with Client in securing sponsorships (if applicable).
Providing and adhering to event planning schedule, policies and guidelines.
Contracting with caterers, entertainment, A/V specialists, trash, restrooms, wineries and other vendors as needed in a timely manner.
Solicit exhibitors and plan layout of event.
Publishing and distributing advertising, public relations and marketing materials.
Work with the press for sponsorships, media buys and coverage.
Solicit volunteers.
Hold bi-monthly meetings with Client to report and receive information on progress.
Provide all applications and get approval from city council, police, fire, public works, ABC, etc. for the event.
Pick charity recipient with Clients influence, if applicable.
Provide an outline and timeline of all experiences that will take place during the event.
Run event providing everything necessary for its success.
Prepare post event financials for the Client.
Past Event Coordination Efforts:
Central Coast Writers Conference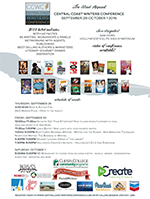 September 29-October 1 at Cuesta College, San Luis Obispo, CA is an essential annual destination for writers, teachers, students, editors, and publishers.
Each year writers join our community for three days of insightful dialogue, networking, and unrivaled access to our staff. The 2016 conference features over 60 presenters offering workshops, screenwriting, panels, critiques, keynotes, and craft lectures.
With a focus on Hollywood and TV/Screenwriting, some of the industry's best creators will be available for everyone. Join us September 29-October 1, 2016.
Association Management and Retreats
Full Management of your association retreat or convention. Includes Member Interface,
All Planning, Food, Beverage, Entertainment, Key Note, Workshops and Vendor Management.
Media Events


Media Events to announce a new product, charity or business. We provide all public relations and event management with guaranteed press attendance.



Taste of Nipomo

This elegant event showcased the best of wine and restaurants along with being a fundraiser for Nipomo High School and Santa Maria YMCA. This discerning party featured local restaurants being paired with wineries, a silent auction, a Lucky Board raffle, music, camaraderie and fun. Set in the serene settings of a Tuscan Castle Style home and offering the finest of adornments, cuisine and wine.
Pismo Beach Clam Festival
The 64th Annual Clam Festival was revamped and made more family friendly and demographically varied. I added a third day, thus ensuring a 2-night stay for the "Surfing Safari" themed event. Over 25 experiences were coordinated for this festival, 5 new profit centers (including sponsorships) were added. The event grossed over $65,000 (this was the first time in 10 years the event produced a profit).
New events included a Wine Walk that paired 31 wineries with 31 different downtown businesses. With over 120 Vendors selling food, goods and drinks, this added to the events overall majesty. Our new experiences (which can be seen on You Tube under 2010 Pismo Beach Clam Festival) included sandcastle building, hula-hoop and pie eating, kissing, swim dance and spelling bee contests with Gidget and Moondoogie announcing. The clam chowder cook-off devised nine restaurants competing for the "Best Of" prize. The Movie on the beach was a stunning display in the evening hours.
Saturday started with a Pro Am Surf Contest and a parade through the streets of Pismo Beach. We had six bands specializing in traditional surf music that played in two-hour increments each day, specializing in traditional surf music.
Sunday included "Learn to Surf School", a clam dig that had actual Pismo Clams from 1960. My premier event was the Champagne and Caviar Tasting, with over 10 restaurants providing tastes of their finest cuisine – six different kinds of caviar all served with 20 different local sparkling wines. It was an elegant and magnificent event on the Pismo Beach pier.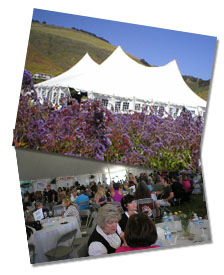 Taste of Pismo
This food and wine event occurs in a custom covering on the bluffs overlooking the Pacific Ocean in the spring each year. We pair 25 wineries with 25 local restaurants that compete for the Peoples Choice Award by decoration and food formulation. Each restaurant provides a "taste" of their finest selection; we pair this with an applicable winery. This 6-hour event includes live musicians, a reverse raffle for local charities and silent auction. The event each year attracts the finest restaurants and wineries and last year the crowd exceeded 2000 patrons, with over half traveling from out of the area to partake.
Business Seminars

These all day events utilize small business experts to lend their expertise as keynote speakers, 1-hour information sessions and panel discussions. We also have booths for vendors to speak one on one with experts and distribute collateral.
Chamber and Client Mixers

During the year, I coordinate and execute over 10 different "Mixers" for companies to reward their customers and employees. Clients include Pismo Outlets, Keller Williams Real Estate and others. Each event includes specialized food, wine tasting, entertainment and some sort of sweepstakes. Sometimes it is a sales presentation and I assist in the acquisition of leads and customer foundation.
Central Coast Martini Shakedown

This annual event is a fundraiser for different charities and is held at a local Central Coast restaurant. We bring in 10 bartenders from different bars and each makes their signature Martini using the sponsor's brand (Absolut). We have celebrity judges who taste and rate all martinis. Prizes are awarded for Judges Choice and Peoples Choice. The event includes food, music and raffle drawings. All proceeds are given to the appointed charity.
Environmental Defense Center Fundraiser

Two different fundraising events utilizing sponsors, vendors, wine tasting, music and food. First event was held at Windrose Organic Farm in Templeton and included farm tours, harvesting and planting demonstrations, a farm animal petting zoo and informational seminars.

The second was at a wholesale nursery in Nipomo that included plant sales, music, vendors and sponsors with all proceeds going to the EDC. This was an event that was planned with a large committee, with a very specific goal that was counter-intuitive with the local political views. Regardless, I procured $16,500 in sponsorships.

I also produced eight 30 minute TV shows for the EDC, which included special guests, promotional video and lively discussion.
Kawasaki Jet Ski Races and Lifestyle Event(s)

I produced three of these events at the Pyramid Lake Paiute Indian Reservation in Nevada. Each event included the technical aspect of an IJSBA sanctioned race and the lifestyle elements needed to attract racers, fans and new prospective customers for Kawasaki. I had to seek permission and assistance from the Paiute Tribe.

Each day had 36 different classes of races, split into general event, last minute qualifiers and finals. Two courses had to be set in the water (slalom and closed course) and provide a freestyle ramp. We had a team of 15 people on the water as course marshals, first aide and security. Our dry land crew swelled to 125 to administrate the event. A 28 foot tower was built for judging, start and finish lines and constructed VIP seating erected.

During the day, we had 4 bands playing, a bikini contest, custom helmet contest and 45 vendors. We worked with local radio and TV sponsors during a month-long promotion for the purpose of giving away a Kawasaki Jet Ski and grow Kawasaki's database.
Yamaha IJSBA Tour and Sponsorship


Riva Yamaha hired me to promote and acquire a sponsorship for their watercraft racing team and to work with the International Jet Sports Boating Association (IJSBA) to acquire a tour sponsor. This partnership led to a year long, 15-city tour sponsored by Rheem Manufacturing Company, a first of its kind. This sports marking package included professional racers and a nation wide team of amateur racers using a branded logo on all vehicles and trailers. We organized and manifested local media in 40 markets, scheduled and promoted special appearances in local retailers of Rheem and the coordination of VIP tours, tickets and hospitality at each race.
World Finals Lake Havasu


With the backing of the IJSBA, I was hired to promote and coordinate the World Finals promotion. This included hospitality suites, rider appearances and many bar activities. I produced it for two years.

The IJSBA World Finals is the world's premier event for all things Personal Watercraft. The IJSBA World Finals continues to be the unrivaled showcase of the human spirit in forms of engineering, athletic achievement, camaraderie, and sportsmanship. It happens every year in October, bringing thousands of participants to compete for the World Championship. The event includes many technical aspects of running a race of this scope and entertainment for the spectators. Vendors included lifestyle specific and industry craftsmen, with the crowd swelling to well over 120,000.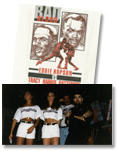 Budweiser Miss Bud, Ring Girl Competition and semi-pro fight

The Budweiser distributor hired me to conduct a Miss Bud Competition where the girls then spent a year representing Budweiser at local bars, restaurants, casinos and events. I coordinated the contest and managed the girls for 4 years. The ring girl competitions were bikini contests with the winner becoming the official ring girl for a series of semi pro fights held in Reno.
Delmar Station

I owned and operated a 10,000 square foot bar and restaurant and casino in Reno, NV. We had live music every night and monthly high yield concerts. I booked the bands, provided for the "riders", handled promotion and marketing and then was present at all shows. I was also the bartender, janitor, human resources and accountant.
Coats for Kids

This was a fundraiser for people to exchange their gently used coats for a ticket to the Monster Truck Show. I coordinated this event for 5 years, with an average of 4000 coats collected. I was able to provide for 20 charities with the coats collected in one night. I had the support of 12 radio stations and 3 TV stations as media sponsors.
36th Annual Reno Air Races

I did the coordination of spectators, media and PR (another company handled the technical) for this annual event. I planned and executed the Foundations mandate of teaching young children about aviation thru district wide school contest, paper plane building activities and family ticket prices.
Wild Orchid Grand Opening

This was a high-end gentlemen's club in Reno that engaged me to handle the beginning media, grand opening and independent contractor solicitation. I controlled a 1.2 million dollar budget. I handled photo and TV shoots, radio production, outside media including billboards, taxicab tops, and all printed material. I arranged for personal appearances, VIP parties and media events.