If you listen to what your body tells you after eating sushi, you would eat it every night. Even if you over-indulge and leave uncomfortably full, in a short time you feel a vital energy burst that does not weigh you down like many other foods. I was in search of a new favorite sushi bar, when I found the Naked Fish in downtown San Luis Obispo. I grilled the sushi chef before I sat down, as I am a very picky sushi connoisseur.
His sign out front said that he had the freshest fish and I asked "What makes your fresh fish better
than other fresh fish?" He explained with a gentle smile and a sharp knife, "It comes down to handling. From the moment a fish is taken from the ocean, it starts a time clock on its lifespan of quality. The better a fish is handled, the better the quality will be when it makes it to your plate. We use one of the highest quality suppliers in the country, and I typically pick them up every day, as FedEx dose not know how to handle fish." I was already a fan of this chef's passion, now I wanted to see what he could do next to impress me.
Gary started with the blackberry chocolate mousse that was a refreshing delight. I started with the Peruvian Scallops served on the half shell with shiso garlic butter. The scallops were flawless and the BBQ Albacore that we all shared was an accomplishment being flash grilled and very rare with a spicy miso sauce. A large bottle of Sake worked its way around the table and the lively event was off to a wonderful start.
Next we tried the Tuna Tataki that was served over lettuce leaf, with avocado puree, hearts of palm, garlic and black lava salt. Tuna Tataki is one of my favorite sushi starts and this was phenomenal. We had a meat eater among us so he tried the Garlic Pepper Ribeye Tataki. This was thin sliced beef that was garlic pepper crusted, then pan seared medium rare with sautéed onion and garlic.
We shared the special of five sashimi plate specialties, and all were unique and very tasty. Tuna with creamy spicy garlic ponzu, sesame chili oil with micro greens, Hamachi with sweet potato threads and sweet jalapeno ponzu, Salmon with pickled red onion, capers, truffle aioli and ponzu, Sizzlin' Albacore with seared Albacore with caramelized onions, jalapeno, garlic chips and ponzu, and finally the Hokkaido Scallop Sashimi with truffle aioli, black lava salt, and ponzu. I was impressed with the creativity and extreme flavor ranges this dish offered us.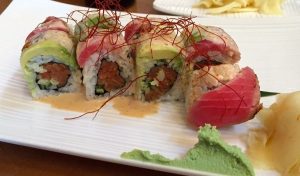 Hot and Wild Roll
The Naked Fish Chef's make their own ponzu from rice vinegar, soy sauce, lemon, orange and Japanese seasonings. It was a tasty and healthy alternative to the high cholesterol, high fat mayonnaise based sauces used in other sushi bars.
Next we had the Salmon Sliders, which consisted of six pieces of a roll that had fresh, Crab and Avocado wrapped in Salmon, topped with tempura asparagus, tobiko, chili teriyaki and sesame seeds. Even the "meat" guy loved this dish.
Chicken Udon
Our waitress told us the Maui Wowwie Roll was another house favorite. She was not so sure what to do with this lively group, so she brought us sake bombs. I hadn't done these in years and our dinning companion had never had tried them (he called them Soccer Mom's).
For the uninitiated, a sake bomb is a beer mug filled 1/3 of the way up with beer. Then you take a small sake class, fill it with hot sake and place two chopsticks on the top of the beer class. The hot sake cup is carefully rested on the chopsticks. The sushi chef then starts a chant. Our was NaNaNaNaNa, Sake Bomb! On the third course, you hit the table around the beer stein, hard and the sake falls into the beer. Then you pick up the glass and chug it down. It is messy, delicious and fun.
The Naked Fish Sushi bar's atmosphere was fun and inviting. The chefs were highly skilled, artistic and fun. You could tell that they take great pride in preparing the meal to ensure an all around abundant experience. This gets me stamp as my new favorite. As the sushi chef told us as we did another round of sake bombs, "Treat yourself. Treat your body. To Naked Fish!"
Naked Fish Sushi is located at 857 Higuera Street is San Luis Obispo; call them at (805) 543-3474.